TRACK CONTAINER MOVEMENTS ACROSS SUPPLY CHAIN
Tracking of returnable container current and historic locations, from supplier to customer and back again.
Returnable transport items (RTIs) could include pallets, intermediate bulk containers, gas cylinders, and kegs.
SmartX automatically monitors the events, such as empty and full status, using event management tools that alert relevant parties of unintended or unexpected events or changes in status
ASSET TRACKING ALERTS
Send out configurable Asset Tracking alerts to multiple users and increase efficient communication.
Email and message alerts can be configured in order to effectively communicate and convey the required message.
SCHEDULE BOTH ONE-TIME AND RECURRING MAINTENANCE
Configure the frequency, start/end date/time, and the added feature to perform/log these events with uploaded pictures to provide a complete audit trail. Generate Reports on Maintenance Events.
Add a floor map in the building where you can break it into different locations.
SMARTX HUB ANALYTICS
With serialization, an item unique serial number applies to every item in the master database. Such granular identification can enhance product visibility, improve data accuracy, and improve decision making throughout the company's supply chain.
Reporting and analytics component, delivers detailed reporting, KPIs, business intelligence dashboards, and advanced analytics.
LOCATION SENSING RFID-IOT READERS
Assets can be tracked with great read speed (up to 500 items identified per second) when moved in both directions when automated readers are mounted in ceilings, facilities exit or entry doors, elevator banks, server room, gates or logistics portal door locations.
SMARTX RFID MOBILE APLICATION
Management and user interface of mobile computing devices inside and outside the network to gain access and provide data for workflows while in the field.
Improved operational efficiency through automated data discovery and automated logistics transactions.
Higher customer satisfaction resulting from more accuracy and speed in shipping, receiving, and handling operations.
HANDHELD RFID READERS & SCANNERS
The SmartX Portable Handheld RFID Reader is primarily used for tracking orders pick-ups and deliveries, receiving materials and taking a physical inventory, but the portable device may also be used for adding information with photos and signatures.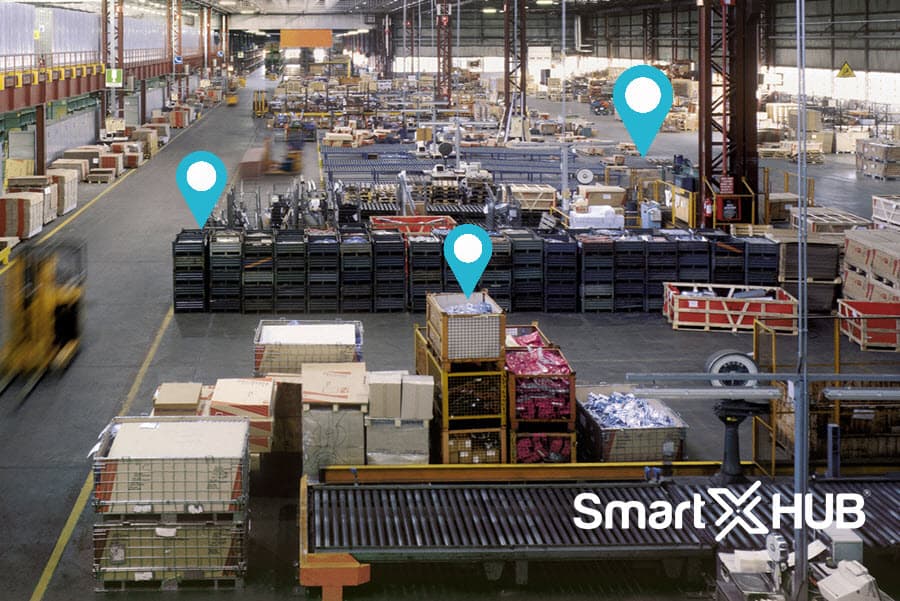 La plataforma SmartX Cloud Asset Management for Enterprises (HUB®) es una plataforma empresarial configurable diseñada para facilitar el seguimiento, la gestión del rendimiento y la disponibilidad de todos los activos retornables, basada en la solución de movilidad RFID-IoT.
¿ Qué Hacemos?
La plataforma RFID SmartX HUB® proporciona un medio simple pero potente para rastrear la localización y el estado del equipo, con una amplia gama de opciones de visualización, informes, administración y alertas automáticas en la WEB, así como la capacidad de proporcionar valiosos datos de ubicación para una variedad de aplicaciones integradas de terceros.
Conozca Nuestros Proyectos
Gerencie el Ciclo de Vida de los RTIs (Desde la compra hasta el descarte)
Benefícios Comerciales & ROI
Ganancias Potenciales con la Plataforma SmartX HUB
Tiempo de Reconciliación de Inventarios
Tiempo de Recuento de Ciclos de Inventarios
Uso de Capital Invertido en Activos
Ahorro de Costos de Stock
Costos de Mantenimeinto de Activos
Tiempo de Devolución de Contenedores
Rentabilidad de Costos de Pérdida de Activos
¿ Preguntas? Hable con Nuestro Representante
El conjunto de componentes de la solución SmartXHUB® conecta diferentes fuentes de datos y utiliza técnicas analíticas avanzadas para transformar los datos en ideas alcanzables mientras fomenta la colaboración y la gestión del conocimiento en toda la organización.
Todos los datos de inventario se almacenan en un servidor seguro y accesible las 24 horas del día.
RENDIMIENTO DE EQUIPOS
SmartXHUB® está diseñado para admitir decenas de miles de activos a través de una arquitectura modular y escalable con alta disponibilidad. También puede administrar, de manera centralizada, los sitios distribuidos y ofrece integración con bases de datos empresariales (ERP).
El módulo de eventos y notificaciones del Hub le permite crear automática e inmediatamente eventos significativos basados en el contexto que requiere atención.
PANEL ANALÍTICO
Las herramientas de análisis de IE, tales como PowerBI y Tableau pueden conectarse a SmartXHUB®, formando un verdadero aliado para la toma de decisiones.
SmartXHUB® ofrece el módulo de reportes personalizado. Estos pueden estar en formato Excel, PDF o CSV. Los reportes web ofrecen acceso a la información de existencias, en línea, a través de un navegador en cualquier teléfono inteligente o computadora.
¿ Le gustaría recibir notificaciones sobre RFID-IOT?